1908
A Salon of One's Own
The eighteenth-century salonnière who inspired Lady Rose's Daughter.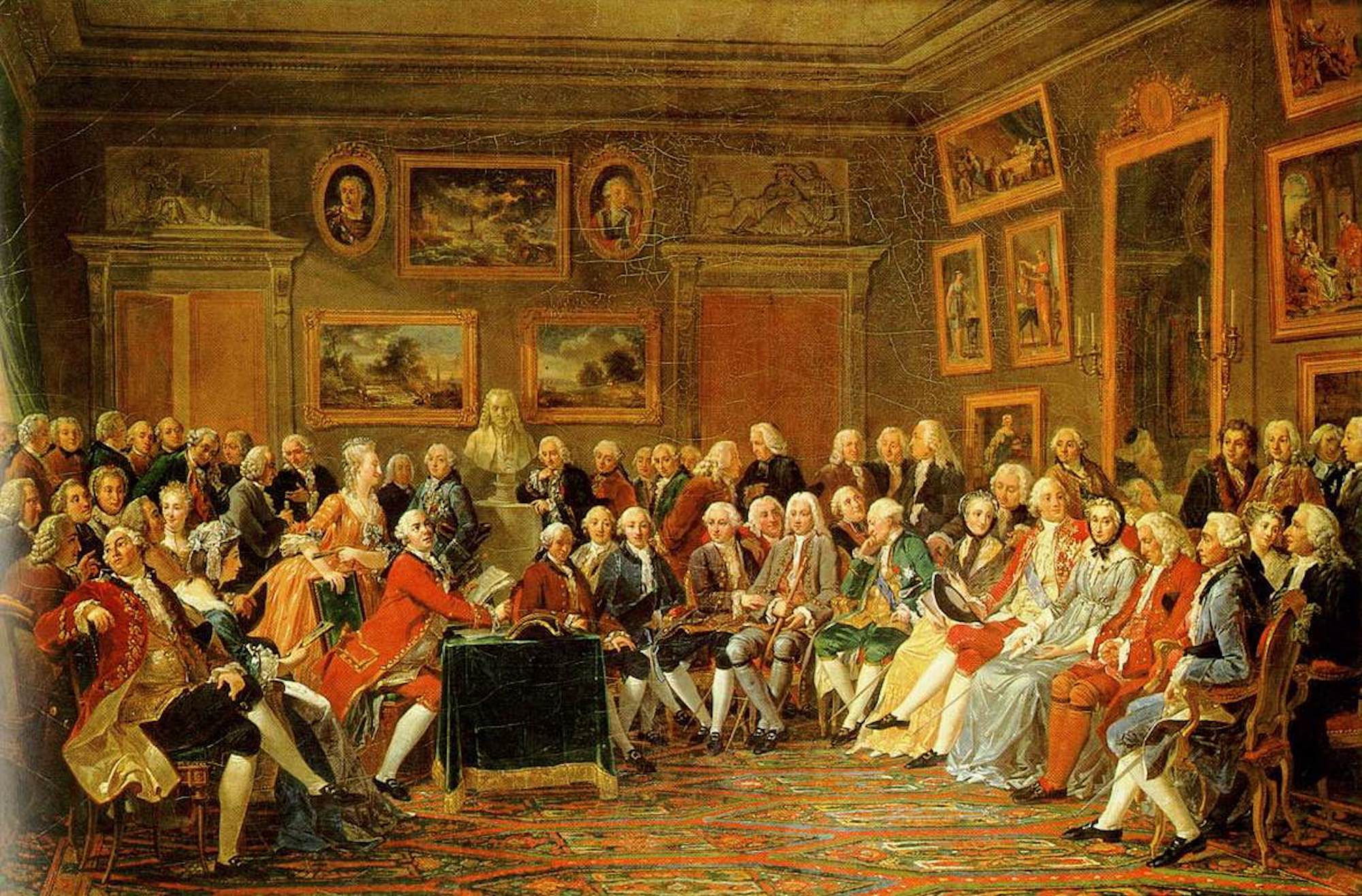 Mary Ward took inspiration for Lady Rose's Daughter from the real life of Julie de Lespinasse, a young illegitimate French woman who got her start in Parisian society as the companion to her blind aunt Madame du Deffand, a well-established salonnière. Lespinasse and Deffand had a fractious relationship that cracked under the dual strain of Deffand's jealousy and Lespinasse's dishonesty. After their final quarrel, Lespinasse struck out on her own and became a significant salonnière in her own right.
Camilla Jebb, a biographer whose other subjects include Mary Wollstonecraft, published her book about Lespinasse in 1908. While other authors had already tackled Lespinasse's life, Jebb hoped that as an Englishwoman she could offer a new perspective that might "reveal some aspects of the case hitherto unnoticed and not without interest." Here she focuses on the role the Enlightenment scholar Jean le Rond d'Alembert played in the rift when he began to prefer Lespinasse to Deffand and even developed romantic feelings for the younger woman.
---
Things were made much worse than they would otherwise have been by the obvious partisanship of d'Alembert. Though he had never been more than a friend, Madame du Deffand was exceedingly jealous of his preference, and for her niece to have supplanted her in that quarter was an unpardonable sin. It was gall and wormwood to her to witness the affectionately confidential terms on which the two now stood to each other, and she made her resentment so plainly felt that they were driven, in self-defense, to devise some means of meeting without her supervision. It is thus that we must account for, and if possible excuse, the curiously childish and not over-honorable proceeding which led to the final separation between Julie and her aunt.
D'Alembert found sympathy and support in two or three other habitués of the salon, who, while regarding Julie with feelings less warm than his, were on terms of intimacy with her and, like him, suffered from the difficulty of enjoying unrestrictedly the charm of her conversation, for it is manifest that the pleasure once displayed by Madame du Deffand at every mark of appreciation bestowed on her niece had by degrees given place to a watchful and irritable jealousy of one who now appeared to her in the light of a successful rival. Madame du Deffand was never visible till six pm. During the winter which followed d'Alembert's return from Prussia, he and the sympathizers above referred to—namely, the historian Jean-François Marmontel, the economist Anne Robert Jacques Turgot, and the Chevalier de Chastellux (the last a gentlemanly dabbler in literature)—formed the habit of arriving at St. Joseph an hour before the daily reception began, and spending the intervening time in a call upon Mademoiselle de Lespinasse.
No suspicion of impropriety attached to these reunions, which seem never to have been of a tete-à-tete description. The tiny bedroom in which they were held would certainly not at first sight strike an English reader as exactly the place where a lady should receive her friends of the opposite sex. But this objection would scarcely occur to French people at the present day, and would have been quite incomprehensible to them then. The difference, in this respect, of national custom is noted by the travel writer Arthur Young, who observes, with some exaggeration: "We are so unaccustomed to have in our bedchambers that it is at first awkward to find in France that people live nowhere else." The real wrongdoing lay in the fact that the existence of this miniature salon was kept a secret from Madame du Deffand, in the full understanding that she would never, had she known, have permitted it. It is indeed difficult to understand how such a trick could have been successfully played upon a woman whose perceptions, naturally sharp, had derived additional keenness from her loss of sight; but late rising on the part of the mistress of a household is proverbially the opportunity of her subordinates, and Julie's bedroom, which looked on the courtyard, was on the floor above that of her patroness and doubtless out of earshot.
But it was inevitable that the day of reckoning, however deferred, should come at last, and one evening, about the middle of April, it came in good earnest. It is said that the evil secret was revealed to Madame du Deffand by a servant—through mere blundering, we must believe, for if the whole household had not been more or less on the side of Mademoiselle de Lespinasse, it is manifest that the deception could not have lasted a single day. Perhaps, as Marmontel implies, the blind woman's suspicions were aroused by observing that not only her companion but the gentlemen above enumerated, betrayed into forgetfulness by the charm of those familiar reunions, had fallen into a habit of joining the circle downstairs at a later and later hour. In any case it is certain that on the April evening in question she rose from her bed an hour earlier than was her wont, mounted the unaccustomed stairs, and stood, terrible in her wrath, on the threshold of the room which still echoed with lively words and pleasant laughter.
The scene which followed has been reconstructed in the well-known novel Lady Rose's Daughter, with much alteration indeed in the circumstances, but still with a vigor and picturesqueness of detail which the mere chronicler of cold facts cannot hope to emulate. The gentlemen doubtless felt the necessity of withdrawing at once from the fray. Even d'Alembert would realize that the lady of his heart must, on this occasion, be left to fight her own battle unaided—as indeed she was entirely competent to do, Only stray fragments of the ensuing dialogue between the two women have come down to us, but they are abundantly sufficient to show that Julie de Lespinasse had not the worst of the encounter.
"So, mademoiselle, you would rob me of my friends!" cried Madame du Deffand, her nasal voice rising almost to a scream. "It is by such treason that you show your gratitude! You shall remain no longer under my roof. I have had enough of nursing a viper in my bosom!"
With equal passion the younger woman, her habitual self-control thrown all to the winds, fiercely retorted.
"Gratitude! I have long known that you detested me. You never miss an opportunity of wounding and mortifying me. I would not stay here longer if you asked me. I have friends of my own, real friends, who will treat me very differently from you!"
And so forthwith, that very night perhaps, the aunt and niece parted to meet no more. We do not know where Julie first took refuge on leaving St. Joseph. For a woman in her position there were only two alternatives consistent with decorum: a convent or the house of a friend. Most likely she chose the latter, for many houses would be open to her at such a crisis. Madame de Luxembourg, or Madame de Boufflers, or the Duchesse de Chatillon, afterward known as her most devoted friend, may quite well have been her hostess during the days immediately following the rupture with Madame du Deffand.