1903
A Novel Without a Purpose
Harper's Magazine reviews Lady Rose's Daughter.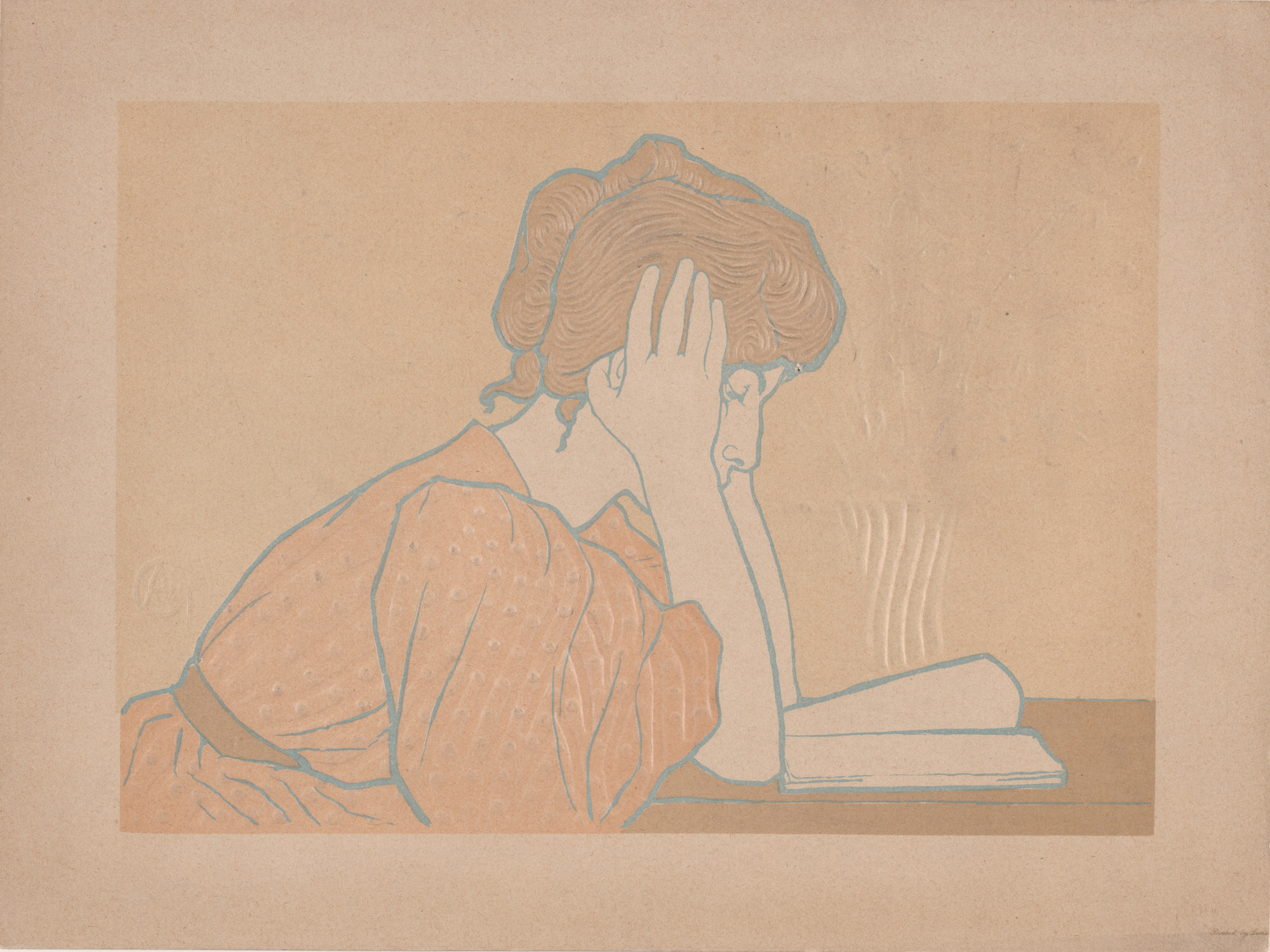 With Lady Rose's Daughter Mary Ward inched away from the didactic "novel with a purpose" she was previously known for and toward stories with a greater emphasis on plot and character for their own sake. Whether or not this contributed to the novel's success is unclear—her more educational work had also been extremely popular—but many reviews of Lady Rose's Daughter remarked on the change as an improvement.
This review by Elliott Henderson, which appeared in the May 1903 issue of Harper's Monthly alongside reviews of Will N. Harben's The Substitute and Grace Lathrop Collin's Putnam Place, traces the evolution of Ward's writing.
---
Early in the month, Lady Rose's Daughter, which has been appearing serially in the pages of this magazine for nearly a year, will be published in book form, and within a few weeks everybody will be reading it, and talking about it. A short time ago it seemed a settled question in the minds of certain sage persons that nobody read serials nowadays, and that at any rate the serial circulation of a novel affected neither its fate nor its fortune afterward as a book. Yet we have seen what the serialization of The Right of Way accomplished for that book at the outset. But great as was the interest stirred in the minds of readers by Sir Gilbert Parker's masterly novel, it has been far exceeded in the effect produced by Lady Rose's Daughter. Indeed, to such a pitch of excitement and enthusiasm have the installments, doled out month by month, carried the public mind that veteran readers declare no such parallel case occurs to their memory since the days of George Eliot, with the possible exception of Trilby. I have also heard them state with conviction (and age, be it remembered, brings a wise deliberation denied to venturesome youth) that since Daniel Deronda they could recollect no work of fiction which appealed so completely at once to intellect and sensibility as to afford that highest intellectual satisfaction and stimulation emanating only from a mind inspired. These facts are of interest as indicating the extraordinary effect Mrs. Humphry Ward's novel, undoubtedly her masterpiece, has had upon her readers. They are not put forward here in any dogmatic mood; judgment of any work of art in the last analysis belongs to posterity. But I venture the opinion that no book of the year is likely to rival Lady Rose's Daughter in popular interest, as none is likely to transcend it in merit. As a story it has that unmistakable drawing power which destines it to an unlimited popularity. Before the end of the year Lady Rose's Daughter will number its readers by hundreds of thousands.
I am aware that there are many readers and critics who have heretofore denied to Mrs. Ward the highest attributes of the novelist—the solvent of imagination in which the component parts of life are fused and crystallized in living forms that embody individual types of character and take a recognizable place in the universal drama. But only a blind and stubborn prejudice can deny the creative gift of dramatic agency to Mrs. Ward in Lady Rose's Daughter. Here there is no mistaking the divine afflatus. You cannot define it, neither can you analyze it; you only know it is there, because you feel it. Deep calls to deep, and it is given to the heart of man to know that a spirit of life has breathed upon him. Even to those who have been moved by Mrs. Ward's work in the past it will be given to perceive that a great change has been wrought in her mind and art when they approach the soul tragedy in Lady Rose's Daughter. "Mrs. Ward," wrote one last spring, after reading a few installments of this novel, "has been loosing herself more and more from the burden and stress of intellectual problems, and conceiving them with greater artistic freedom and facility through the characters of her creation in modern society. In none of her novels, I am prepared to promise, has she realized more fully the sense of dramatic fitness, the need of an imaginative solvent for the free action of her agents in telling a story, than in Lady Rose's Daughter…Mrs. Ward has not always been free from tediousness in unfolding her tale, and many of her pages in previous books have left me apathetic, but in Lady Rose's Daughter all this is changed. It is as if a spirit of life had entered into her work, and illumined it with the fresh flame of an awakened imagination. The access of this surcharged creative force is undoubtedly due to the magnetic conception of the fascinating Julie, Lady Rose's daughter—a new type of character in Mrs. Ward's hands, and as modern and original in her refreshing appeal as was the conception of Trilby."
A knowledge of Mrs. Ward's antecedents and early life, as well as the influences that molded her mind and character, is necessary to an understanding of her intellectual development. Mary Augusta Arnold was born in 1851 at Hobart, in Tasmania. Her father was the second son of the famous Dr. Arnold of Rugby and a brother of Matthew Arnold, the eldest son. During her childhood her father became a professor in the Roman Catholic University at Dublin. She was educated at boarding schools in the Lake District and at Clifton, and upon leaving school was transplanted to the classic shades of Oxford, where she met Mr. Humphry Ward, to whom she was married in 1872. Like George Eliot, Mrs. Ward came under the sway of searching religious inquiry, and was stirred deeply by the intellectual ferment of her time. Like her, she began to find an outlet for her thought in metaphysical and critical writings, which found a place in Macmillan's Magazine and other periodicals. The translation of Henri Frédéric Amiel's Journal intime, in 1885, undoubtedly marked an epoch in her spiritual development. In her introduction to the Journal she quotes Ernest Renan as saying: "In these two volumes of pensées, without any sacrifice of truth to artistic effect, we have the perfect mirror of a modern mind of the best type, matured by the best modern culture." To a great extent this is true of Mrs. Ward herself. Culture is the very breath of her genius. From the first her work has borne the profound impression of a mind matured and ripened by the best modern culture. But in her case the artistic effect has too often been sacrificed to truth, so that the bulk of her fiction, until lately, has dragged in the trail of the Tractarian and doctrinaire. It is not without significance that we find the seed of Robert Elsmere gathered in the harvest of the Genevan thinker's garden, and that the germ of this novel, delineating a soul struggling with religious doubt, lay in her desk for several years in the form of an essay unpublished for want of sympathizers.
Nurtured in the very cradle of culture, and matured in the academic cloisters of modern thought, it is not to be wondered at that for a period the imaginative work of such a mind should have been weighted by an inordinate passion for intellectual adventure into the religious and ethical institutions and social traditions of her time. And this is just what happened. Robert Elsmere was an adventure in all seriousness into accustomed religious institutions; David Grieve into the ethical grounds of marriage; Marcella and Sir George Tressady into socialism. In Helbeck of Bannisdale religious tradition again entered, but the leaning toward romance was dominant; Eleanor was a still greater advance into human life, and showed that the imaginative powers of the author were growing stronger and in the ascendant. But in Lady Rose's Daughter, what a transformation! Here we are face-to-face with life. The main passion of the artist is revealed in its "inexorable realism and sincerity," to quote herself, "determined to yield to nothing but that indestructible sympathy of man with man, that eternal answering of feeling with feeling which is one of the great principles, perhaps the greatest principle, at the root of life, as of literature and art." Mrs. Ward has at last found a story which tells itself with direct sympathy and dramatic appeal. Nowhere is there the slightest trace of intellectual labor and tedious analysis of motive which burden so many pages of her previous novels and clog the movement of the story. Her characters fasten on the imagination and impress their reality with convincing lifelikeness, while the imbroglio of their acts and impulses leads by very dint of inevitableness through a series of situations as natural as they are dramatic, on to a consummation that fully satisfies the sympathies aroused in the reader by living contact with living personages, and thrills the aesthetic mind by its perfect artistry. Distinction marks the whole work—distinction, especially, separates the figure of Julie Le Breton from the ruck of modern heroines and lifts her to the place occupied in the niche of fame by the immortal women of fiction. Julie—Lady Rose's daughter—is the point of gravitation in the story; every phase in the dramatic development relates to her. About her move the noble company of men and women that distinguish the stateliest order of England's social aristocracy portrayed with a fineness of touch and a daring sincerity that leave no question of the truth of the picture. The moral unrest, the social ambition, the conflicting ideals, the mighty hopes, the mounting passion, the flowering of beauty and peace as they are metamorphosed in the nature of Julie are reflected in lesser degree in the society about her—all with the culture and observation and ripeness of experience, and the maturity of art of one who knows whereof she writes.