1903
The Importance of Being a Duchess
The New York Times satirizes Lady Rose's Daughter.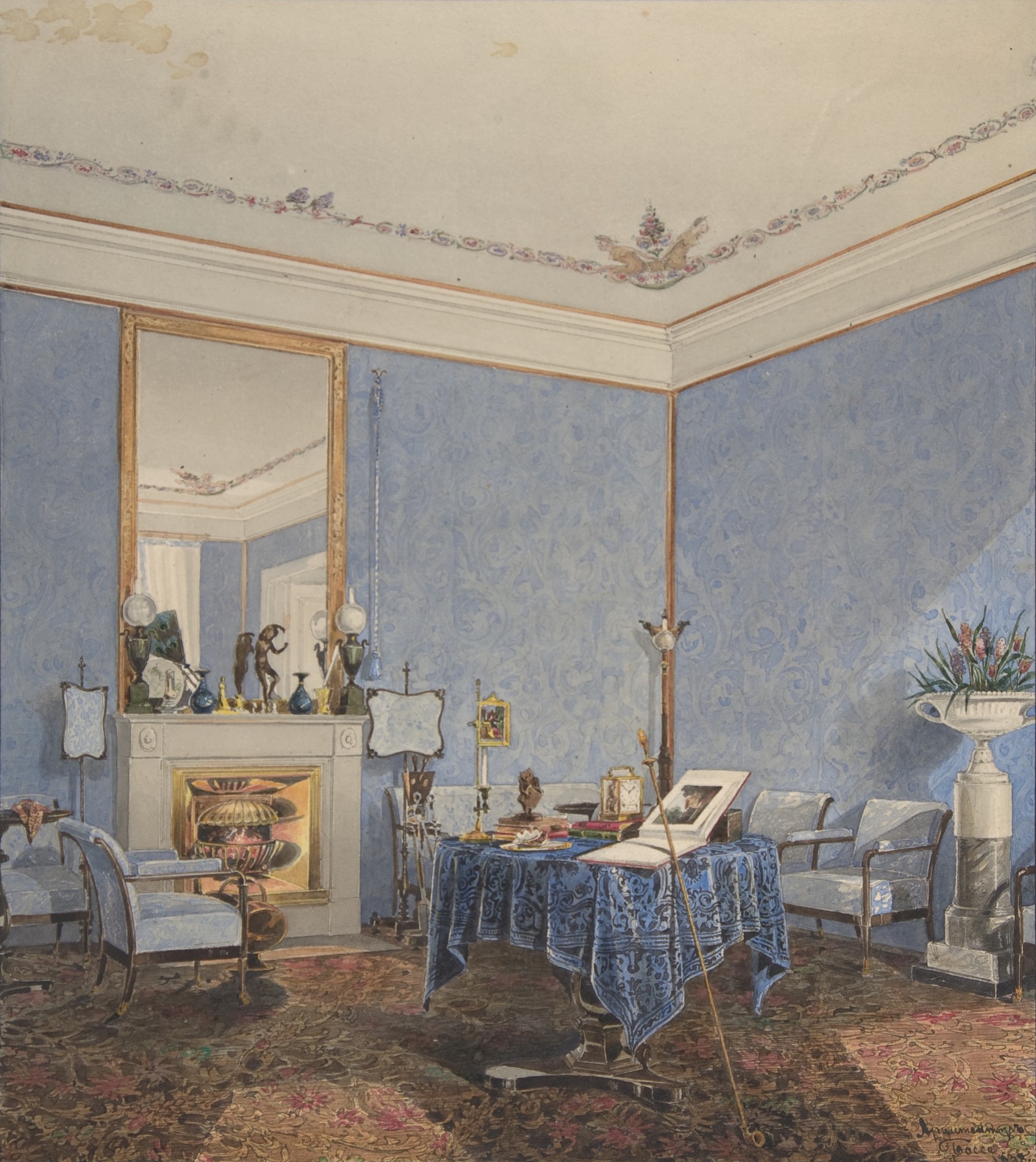 The satire below, published in April 1903 as "The Lady's Rosy Daughter: With Apologies to the Author of Lady Rose's Daughter" in the New York Times, reimagines a scene in Lady Rose's Daughter, recasting the characters as less charitable and more absurd versions of themselves. While author William J. Lampton lifted much of the dialogue and description directly from the novel, his additions both highlight and exaggerate the characters' flaws, making Julie a materialistic social climber and Delafield a besotted fool. In the original book's final scene, Julie and Delafield are already married and Delafield is distraught over his uncle's death and the fact that he will succeed him as Duke of Chudleigh—a position Delafield never wanted but which he feels duty bound to accept, for Julie's sake. It speaks to the immense popularity of Lady Rose's Daughter that neither Lampton nor his editors felt the need to provide any context about the original scene or the novel for their readers.
Lampton is best known for his collection of satirical poems Yawps, and Other Things. He was buried in Winchester Cemetery in Kentucky, where his epitaph reads "Plain Poet of the People." Humor seems to have run in the Lampton family—William's father, also named William, was Mark Twain's cousin.
---
Delafield was sitting at a writing table in the window. He had apparently been writing; but Mademoiselle Le Breton found him in a moment of pause, playing absently with the pen he still held. She thought how much nicer it was than if he had been playing presently with his typewriter, as some men do in moments of abstraction such as this.
As she entered he looked up, and it seemed to her his aspect and his mood had changed, and he had kept the change. Her sudden and indefinable sense of this made it easier for her to hasten to him and to hold out her hands to him.
"Jacob," she said, "you asked me a question just now, and I begged you to give me time. Some women might have asked you to give them money, but I didn't. Time isn't money with me. I am here to answer that question. If it would be to your happiness to refuse this dukedom, refuse it. I will not stand in your way, and I will never reproach you. I am no rich American girl looking for a title. I am different. I am used to titles. You will be much criticized, perhaps much blamed. But not by me. If it seems right to you to do it, bang away, and I'll stand by you and help you. Whatever makes you happy shall make me happy, if only—"
Delafield had risen impetuously and held her by both hands. His breast heaved, and the hurrying of her own breath would now hardly let her speak. It is only in supreme moments that a woman gets so she can't say anything.
"If only what?" he asked hoarsely.
She raised her eyes—Julie's eyes were not light because she was a brunette, but she raised them just the same. She was a woman of power.
"If only, mon ami"—she disengaged one hand and laid it gently on his shoulder—"you will give me your trust—"
"You are in favor of consolidation?" he interrupted, with a smile.
"And your love," she added, without heeding his play upon her words.
They gazed at each other. Between them, around them, hovered thoughts of the past—of Warkworth, of the gray Channel waves, of the spiritual relation which had grown up between them in Switzerland, mingled with the consciousness of this new, incalculable present, and of the growth and change in themselves. Whatever she may have said derogatory to a title, she was yet a woman and she could not wholly forget it. Plain "Mrs. Delafield" was small potatoes and few in a hill compared with "The Duchess of Chudleigh" on a visiting card.
"You'd give it all up?" said Delafield, gently still holding her at arm's length, although he was not much of an athlete.
"Yes," she nodded to him with a smile, feeling pretty sure everything was coming her way at last.
"For me! For my sake?"
She smiled again. She was feeling bully, as Mr. Roosevelt would say in his strenuous language. He—Delafield, not Roosevelt—drew a long breath and, turning to the table behind him, took up a letter which was lying there.
"I want you to read that," he said, holding it out to her.
She drew back, with a little involuntary frown. He understood.
"Dearest," he cried, pressing her hand passionately, "I have been in the grip of the powers of death."
"Everybody seems to be having the grippe this spring," she said absently.
"Read this letter—be good to me," he said, not noticing her sanitary comments.
Standing beside him with his arm around her, she read the melancholy duke's last words. They were practically a command to Jacob to become the Duke of Chudleigh whether he wanted to do so or not.
Julie dropped the paper. She wanted to cut a pigeon wing, do a cakewalk, or some other highly impulsive thing, but she thought it would be undignified unless there were others of the Four Hundred present. She turned to look at him to see how he was taking it.
"Since I read that," he said in a low voice, "I have been sitting here alone—or, rather, it is my belief that I have not been alone. But"—he hesitated—"it is very difficult for me to speak of that—even to you. At any rate, I have felt the touch of discipline, of command. My poor cousin deserted. I, it seems"—he drew a long and painful breath (before this and the one mentioned above he had never drawn anything much, except a small salary from the duke)—"must keep to the ranks."
"There are other ranks, but a duke's is good enough for me," she thought, but she did not mention it.
"Let us discuss it," she said, and sitting down, hand in hand, they talked quietly and gravely.
Suddenly Delafield turned to her with renewed emotion. He was an emotional chap, was Jake.
"I feel already," he said, "the energy, the honorable ambition you will bring to it. But still, you'd have given it up, Julie? You'd have given it up?
Julie chose her words. She was not intending to let a good thing get away from her if she could help it. At the same time she didn't want Jacob Delafield to think she was marrying him merely because it would make a duchess of her. What she may have thought was her own business.
"Yes," she replied slowly. "But now that we are to keep it, will you hate me if, someday—when we are less sad—I get pleasure out of it? I shan't be able to help it. There are so many people in our set that I do want to sit on good and hard, and I can do it as a duchess, when I couldn't otherwise. When we were at La Verna I felt that you ought to have been born in the thirteenth century, that you were really meant to wed poverty and follow Saint Francis. But now you have got to be horribly, hopelessly rich. And I, all the time, am a worldling and a modern. What you'll suffer from I shall perhaps—enjoy."
The word fell harshly on the darkened room. Delafield shivered as though he felt the overshadowing dead. Julie was scared and grabbed his hand in a hurry.
"It will be my part to be a worldling—for your sake," she whispered, her breath wavering.
Their eyes met. It was all day with Jacob. From her face shone a revelation, a beauty that enraptured him. Delafield was a gone gosling. He would have accepted all the dukedoms in the peerage if she had said the word. He fell on his knees beside her and laid his head on her breast. The exquisite gesture with which she folded her arms about him was worth a carload of coronets. At last he needed her, and the dear knowledge would have made her perfectly delighted to be a duchess even if she hadn't thought much about it in the first place. Which she had.
And so they were married, and the Duchess of Chudleigh got even with a whole lot of people she had it in for.