1904
Offered Love with Both Hands
On the life and loves of Julie de Lespinasse.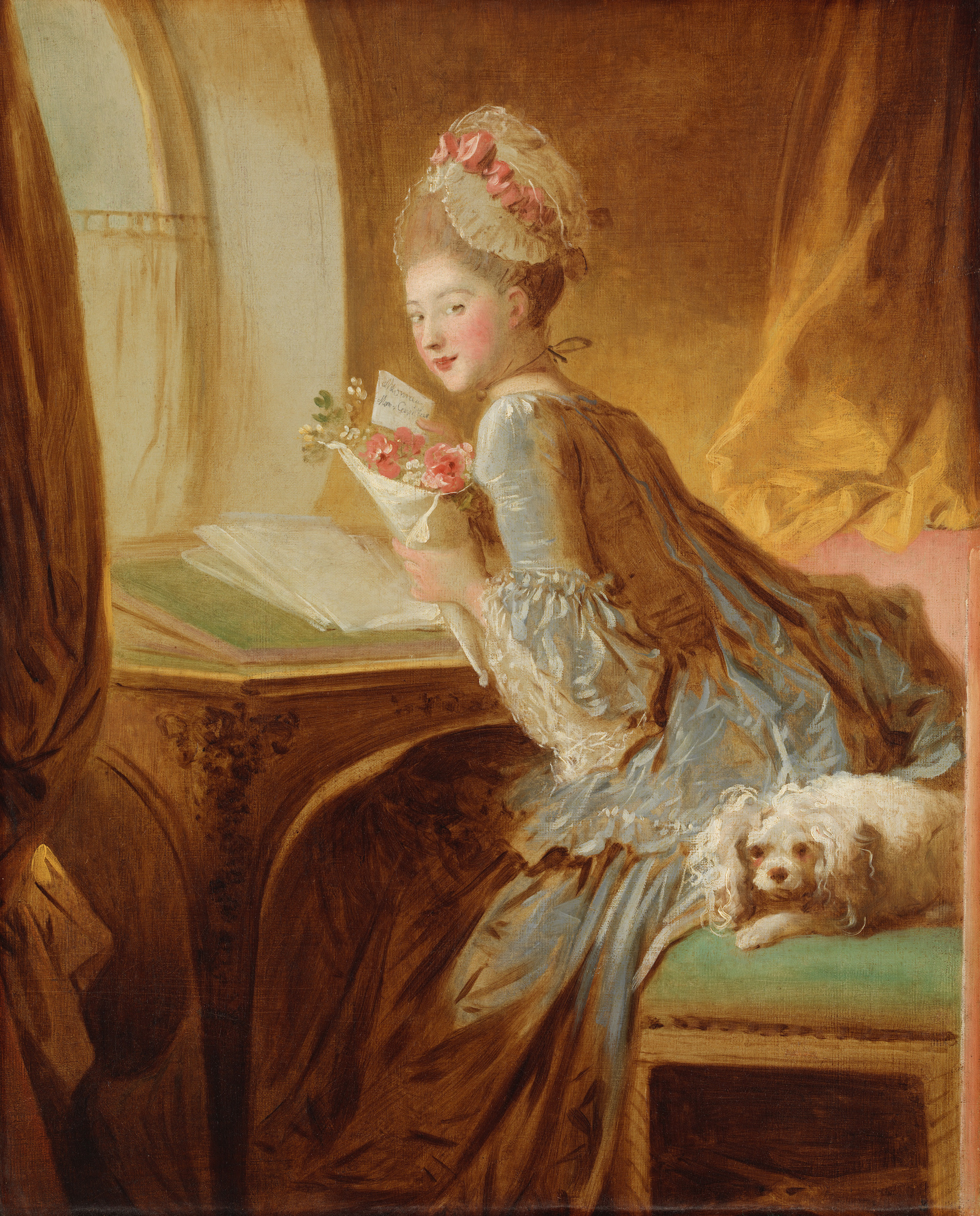 Julie de Lespinasse is now better remembered as a writer than a salonnière. Although she never published anything in her lifetime, her lively correspondence was published in 1809, thirty-three years after her death. Her two tragic love affairs, with Don José y Gonzaga, marquis de Mora, and Jacques-Antoine-Hippolyte, comte de Guibert, unfold over the course of the letters.
The English author and philosopher William Leonard Courtney wrote the following review of Lespinasse's work in his 1904 book The Feminine Note in Fiction. The volume, which discusses the work of several female authors including Mary Ward, begins with the assertion that there is "such a thing as a distinctive feminine style in fiction." Courtney goes on, "When woman write novels they introduce a particular point of view of their own, attack the problems of life from their own angle of vision, and arrive at conclusions not always the same as those which appeal to male novelists."
---
No age was richer in memoirs and correspondence of all kinds than the eighteenth century in France. Most famous of these are, I suppose, the memoirs of the Duc de Saint-Simon, containing a series of pictures of the court of Louis XIV and the Regency, remarkable, above all, for the bitterness of their tone. Then we have the memoirs of Madame d'Epinay, and those of Mlle Aissé, and the extraordinary confessions and reveries of Rousseau. But among them all, the Letters of Mlle. de Lespinasse hold a conspicuous place, belonging, indeed, to a category of writings of which not many examples exist in all literature. Who, in point of fact, are the great lovers who have dared to betray to the world the passionate anguish of their souls ?
Antiquity gives us Sappho, fragments of whose poems, full of fire and tears, come down to us across the ages. Or we think of the Phaedra of Euripides, with its modern equivalent, the Phèdre of Racine, or the beautiful stormy episode of Dido in Virgil, the Medea of Apollonius of Rhodes, the Ariadne of Catullus. In the modern world we have examples, which do not altogether bear comparison with earlier prototypes, in the letters of Héloïse or those of the Portuguese Nun, or Manon Lescaut, or the sonnets of Mrs. Browning. The Letters of Mlle de Lespinasse yield to none of these in fervor or intensity. It was a period when Rousseau was setting the example of the most intimate analysis, as well as the most shameless confessions, of a human personality.
Yet we catch in all that he wrote the accent of a studied affectation, while Mlle de Lespinasse is absolutely unaffected. To translate her letters into English is a most difficult and, in some respects, impossible task; but the edition, for which Katherine Prescott Wormeley has made herself responsible, gives a fairly adequate idea of the inimitable and almost unparalleled original.
The story of this most amorous lady, whose capacity for love is an absolute stroke of genius, is tolerably well known. She was an illegitimate child, the natural daughter of the Comtesse d'Albon, whose legitimate daughter had married the brother of the Marquise du Deffand. At the age of twenty, Julie-Jeanne Eléonore, for such was the only name to which she was entitled, was nothing more nor less than a governess in the house of the man who had married her sister. It was there that Madame du Deffand found her, and, captivated by the charm of her frank, unspoiled nature, and her ready social wit, took her away to live with herself as her companion and reader at the Convent of St. Joseph. She was in no sense beautiful, but she possessed both grace and charm; above all, she knew how to make people at home, to extract from them by a sort of judicious flattery the best they could communicate, their wittiest thoughts, their most sparkling utterances. She tells us herself in her letters the secret of her success. "The truth is," she says, "that I had a real triumph because I brought out the charms and the intellects of the persons to whom I was talking." She was, in fact, an admirable listener, and the reality of her sympathy proved, as it always does, the strongest cement of a sociable and enthusiastic friendship. Moreover, she never required praise from her worshippers. What she desired was something infinitely more subtle and dangerous—love.
Love she had, in truth, offered her with both hands. There was d'Alembert, to begin with, one of the recognized powers of the eighteenth century, the perpetual secretary of the French Academy, who, almost without knowing it, laid his heart at Mlle de Lespinasse's feet. Poor D'Alembert! It is impossible not to feel sorry for so staunch an ally. For years and years he was her steady friend and benefactor, and he thought, good, easy man, that she was as much devoted to him as he was to her. Only after her death did he discover the truth, which did not prevent him from offering to her departed spirit the tribute of his affectionate and tearful eulogies. But the lady's heart had always been elsewhere—first in the keeping of a M. de Mora, next offered to and accepted with tempered enthusiasm by the comte de Guibert. The marquis de Mora was a remarkable man, the ambassador from Spain to the Court of France, who came to Paris about the year 1766. He had to be absent on various occasions, but he always returned to Mlle de Lespinasse. During a journey which he made to Fontainebleau in the autumn of 1771, he wrote as many as twenty-two letters to her in ten days of absence. Unfortunately, he had feeble health, and died at Bordeaux in 1774. Alas, for the constancy of human affections! Even before this date, Mlle de Lespinasse, in the month of September, 1772, met the comte de Guibert, and promptly fell head over ears in love with him. It seems almost a discourtesy to mention the not unimportant fact that the lady was forty years of age, while the young gentleman was just twenty-nine. M. de Guibert, however, was by no means so distinguished a man as M. de Mora. He was brilliant and facile, starting life with a great reputation, which his subsequent career did not altogether sustain. His contemporaries in their enthusiastic way described him as "a soul which springs on all sides towards fame." But he was more than a little superficial, and although he enjoyed apparently the din and tumult of love, and naturally felt proud of the devotion of the established leader of Parisian society, his emotions seem to have had neither warmth nor duration. As a matter of fact, he married another lady, and it perplexes us with a chill sense of disappointment to find that the love letters addressed by Mlle de Lespinasse to M. de Guibert were published to the world by his wife, assisted in the work of editing by Bertrand Barère, the notorious Barère of the Terror.
Under whatever auspices they first saw the light, these letters of Mlle de Lespinasse are in the front rank of literature. They are exceedingly frank and ingenuous. They are, if the expression may be pardoned, quite abandoned and shameless in their avowals, and one sometimes wonders whether it was not a kind of impiety to issue them in print. For Mlle de Lespinasse at the dangerous age of forty was torn by many conflicting emotions—remorse for her speedy forgetfulness of M. de Mora, agonized remembrance of his love and early death, a new passion for M. de Guibert, an intimate consciousness that she was giving her young lover a great deal more than he could give her, a pathetic resignation when she found that he intended to marry someone else, a quite piteous resolve to retain at all events his friendship by helping to establish his social fortunes. At the time when the Spaniard M. de Mora knew her, he was able to say that there was no one of his own countrywomen who possessed such a wealth of tender emotions. To us, reading these letters, the words of which seem to burn the page on which they are written, there is abundant proof that Mlle De Lespinasse would bear comparison not only with the contemporary Spanish ladies but with Sappho and Phaedra, Héloise, and the Portuguese Nun. Take, for instance, this exceedingly brief and pithy letter, which she heads, "From every instant of my life, 1774. Mon ami, I suffer. I love you. I await you." It is passion raised to its highest degree. Or this: "I feel only the need of being loved day by day. Let us blot from our dictionary the words 'for ever,' my soul can no longer attain so far."
Was ever so ardent a love acknowledged with such an absolute want of reserve? Happily in these letters we have lighter and brighter passages, which, though never devoid of a background of consuming passion, yet paint the writer with something, at all events, of her acknowledged charm.
I dined today tete-à-tete with a person who is unhappy, consequently there was interest. Afterward, at three o'clock, I went to take a turn in the Tuileries. Oh, how beautiful the gardens were! How divine the weather! the air I breathed served to calm me; I loved, I regretted, I desired, but all those feelings bore the imprint of sweetness and melancholy. Oh, mon ami, that way of feeling has greater charm than the ardor and throes of passion—yes, I think I am revolted by them. I will no longer love forcibly; I will love gently—but never feebly. You can well believe that, since it is you I love.
Fortunately, perhaps, we cannot all of us live at the same exalted level of feeling as Mlle de Lespinasse, for when love burns with this intensity it destroys its victim. Her letters cannot be read and judged by personal standards or ordinary social conventions. They belong to a category all by themselves. But her love killed her, and her last letters are a concentrated wail of anguish. On Thursday, May 23, 1776, death relieved her of her sufferings. She had passed the last three days in a state of exhaustion, which scarcely permitted her to speak aloud. It is the French writer La Harpe who tells us of the final scene. "The nurses revived her with cordials, and raised her in her bed. 'Do I still live?' she said regretfully. Those were her last words."
---
In the same book, William Courtney praises Lady Rose's Daughter:
The story is conducted with that sure mastery of incident and that patient analysis of a given situation to which Mrs. Humphry Ward has accustomed us in all her later work. Here is a novel which we can enjoy for no extrinsic reasons connected either with the problems it discusses or the moral it preaches, but simply and solely for its own artistic excellence. Never has Mrs. Humphry Ward's hand worked more triumphantly in the creation of significant personalities. Her portraits are at once well designed and accurately carried out. We do not easily forget Lady Henry and Sir Wilfrid, Montresor and Meredith, Lord Lackington and the duchess of Crowborough. They stand before us as living types whom we should recognize if we met—things of real flesh and blood, never the inventions of an imaginative novel writer. And Julie Le Breton herself is an admirable study of a heroine, who enlists our interest almost from the first page and retains our sympathy to the last. Perhaps it is unnecessary to say that the novel is well written. Numerous passages are to be found of literary grace and strength; numerous scenes like those in which Lady Henry appears, or that crucial interview between Julie and Captain Warkworth, which are replete with dramatic significance. Lady Rose's Daughter will undoubtedly take its place in contemporary literature as one of the finest specimens of the work of a singularly able and thoughtful novelist.